You know what feels great? Receiving a random act of kindness!
The other day I noticed a package at my front door. A neighbor I had recently connected with, dropped off a book and a note just for me. I was surprised and delighted to find it- books are one of my love languages after all!
And, even amidst a FULL week of finalizing my book for print (!), coaching my son's basketball game and practice, leading my Author Moms meetup, being a guest panelist for a Let Grow Foundation webinar, volunteering at school and more- I was still drawn to and able to read this gem of a book in a matter of days!
Good News! 
That is the book 🙂 The Power of Good News: Feeding Your Mind with What's Good for Your Heart by Hal Urban. Hal's warm and welcoming personality and insights jumped right off the page. I loved reading his story of uncovering and leveraging the power of good news and mental inputs and how he has been inspiring his many students, readers and audiences along the way.
For example, I love how he greets his students (and friends) each morning with a genuine hello. When asked "How are you?" he replies, "Really good now that you've shown up" or "Better every time I see you." And people love it! (Sounds like a great way to greet our kids too!)
So in the spirit of good news and kindness I want to extend that greeting to you too! Thanks for stopping by to read my blog and for being drawn to this post on kindness! You make my day brighter!
Thank you Kathy for sharing Hal's book with me! Hal, thank you for sharing your passion with the world. I am excited to reach out and connect with you. And I will now take the baton from Kathy and perform my own random act of kindness. 
And as tomorrow (Feb 17th) is Random Acts of Kindness Day, I invite you to join me in spreading some kindness yourself! 
Xoxo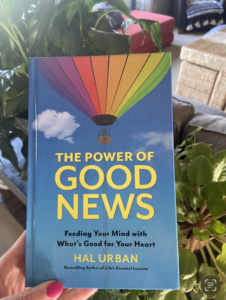 PS- You can see a video of me doing a Random Act of Kindness when I debuted that game for my book here!