Hello & welcome!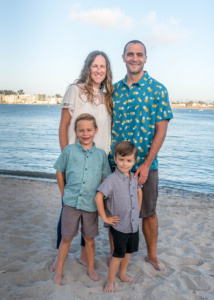 I'm Laura Haver. I am an author, coach, speaker and beach-lover! I am obsessed with happiness and play, and learning how to craft the best life for my family, clients and myself! I write about all the fun and craziness that accompanies being part of a family, being full of dreams and ideas, and living a life that you love.
I am pumped to be finishing up my upcoming books, Play Together and Whirlwind Parenting, which brings fun, play and coaching to parent life!
I am blessed to have two playful and sweet boys, to have married my summer fling, and to live in San Diego, CA near my extended family (and the beach)!
I have had a lot of adventures throughout my life including coaching extraordinary people and helping them unlock their dream lives, writing a book & blog full of happiness games, living in Australia where I earned my Masters in International Communication, winning the Beach Tennis National Championships, appearing on the Today Show, being a world-ranked beach tennis athlete, being a mom, wife and more.
In March 2020 my boys and I started the #WeWriteTheStory2020 challenge to help connect families and people during the COVID quarantine. We have had a blast, partnered with a lot of cool organizations and are still creating new games! So far we have over 60 games & counting and we were featured on FOX News. You can find all the games on my Instagram account, @lauramhaver.
I also lead a writers group for moms. You can follow along on Instagram for inspiration at @authormoms.
I am excited to share what Ive learned along the way and continue to learn in hopes that we all can work together to be and raise the best people on the planet and have fun/fulfillment along the way!
XOXO,
Laura