Book Laura for Your Podcast
I absolutely LOVE doing podcast interviews. It's such a blast digging into different topics and sharing ideas. Reach out here if you'd like me to appear on your podcast.
Heather Penny Podcast
The Importance of Play with Laura Haver (45 minutes)
This week we talk about the importance of play with the delightful Laura Haver. Laura is a Life Design Coach, advocate of play, and fun expert! Listen in as we talk about how fun and play can lead to success in other areas of your life. Laura's wisdom in this area lines up so perfectly with the conversations we're already having about finding your "tire swing" and spending time under the stars. Are you in need of more clarity, confidence, and courage? You might just benefit from adding some play and fun into your life.
The Healthy Mind F*ck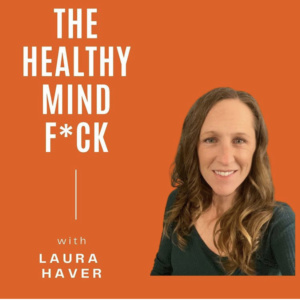 Put Playfulness Back into Parenting with Laura Haver (29 min)
Parenting is not easy and I'm beyond happy to have my amazing friend @lauramhaver on the podcast today sharing her skills on bringing play into parenting.
Laura has become a close friend and during this change of humanity has learned to thrive with her children by remembering how to play. We talk parenting, life design, how to avoid parent guilt and more.
Eff That: Breaking the Rules for Online Business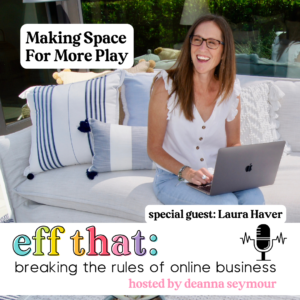 Making Space for Play with Laura Haver (36 minutes)
When you're a solopreneur it's pretty hard to draw that hard line between life and business. Especially if you're a personal brand. So the idea that we can infuse more fun into one and it'll benefit the other is pretty cool to me. Today on the show I'm talking to Lara Haver about how (and why) you should infuse more fun into your life and business.
And don't worry, if you think you're not "fun" or "playful" Laura's gonna help you figure out what would work for you.
Laura and I talk about:
•The benefits of adding more play to your life
•Why grownups tend not to value play
•How much play we really need
•Her new book with fun games for the whole family!
•Go to: deannaseymour.com/laurahaver for the full show notes & transcripts
Made to Create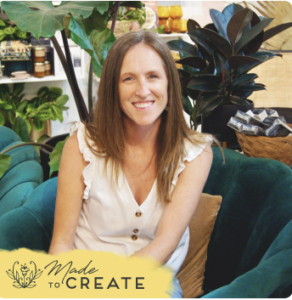 Let's Get Writing with Laura Haver (26 minutes)
Made to Create welcomes back Laura Haver to talk about her journey as a writer and aspiring author. We talk about how comparison can be the "thief" of our creativity. Laura is also the founder of Author Moms, a group dedicated to providing space for moms to develop their writing skills, share ideas, and work towards authorship.
Midlife Moxie
The Importance of PLAY with Laura Haver (65 minutes)
In midlife, "play" may sound silly, but having fun and enjoying recreation can help us to stay healthy and happy. Today, play expert Laura Haver joins us to share the benefits of having fun in this season.
Soul Purpose Leadership Podcast
The Secret Sauce of PLAY: What it truly means and how to Live Your Life By Design with Laura Haver (35 min)
In this episode, we talk about bringing play into all areas of life – it benefits productivity and mental health. Laura says that "The smallest amount of play can light up every area of your life." We talk about sneaking in methods of play (aka becoming a "play detective") and translating your childhood joys into your everyday life, even now.
Don't Eat Your Feelings with MindfulBellie

Episode 66: Re-align your life, communicate your needs, and prioritize play to breakthrough emotional eating patterns with Laura Haver (1 hr 11 min)
In this episode, Ellie shares some quick holiday/Valentine's tips and an interview with Laura Haver.
Laura is a mom, coach, writer, and athlete. She has helped hundreds of people experience more play, adventure, growth and inspiration in their lives. She specializes in communication, Happiness/Well-Being, Parenting and Empowering women to play big, align their lives with what is important to them, and use their voice to impact the world.
Made to Create 
Chasing Creativity with Laura Haver
Sometimes chasing creativity is as simple as making it fun and setting some attainable habits. In this episode Laura Haver and I sit on my patio to talk about creativity, writing, being a mom and how to have fun with all of it. Laura is an author and coach helping busy & overwhelmed parents have fun & connect w/their kids through play, coaching & communication. I was so encouraged as a parent, creative, and just as a human being in this conversation with Laura. I know you will be too!
Madison / Savile Inspired Podcast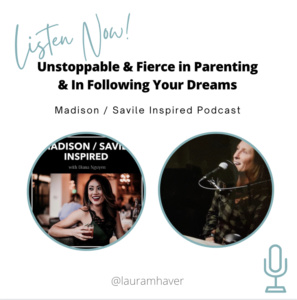 Unstoppable & Fierce in Being a Parent AND Following Your Dreams with Laura Haver (50 min)
How do you be a parent, be present, have FUN & CONNECT with your kids all while making the space and time to pursue your dreams and passions?! I don't know one mom that is not busy and doesn't hide in the bathroom every now and again to have a moment to themselves.
My guest Laura Haver is a mompreneur, writer, coach and speaker on this very topic. She is obsessed with uncovering the secrets of how to live an unstoppable life and has helped hundreds of people experience more play, adventure, growth and inspiration in their lives. As a coach she offers a very unique and needed coaching specifically on helping busy moms to let go of the mom-guilt & stagnation and UNCOVER their passion/purpose. Join us as she shares some of her coaching tips and life hacks!
If you are interested in learning more lifehacks and more about Laura and her coaching, you can reach her at  laurahaver.com  or IG @lauramhaver.
Uncommon [cast]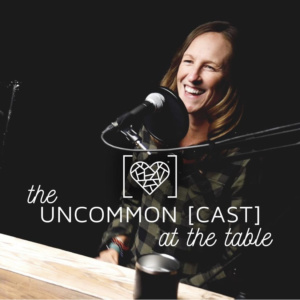 The Whirlwind with Laura Haver – Pt 1 (27 min)
When we find ourselves in a whirlwind, we have a few choices… get angry, play the victim, or… ride the storm, and hopefully make peace with it… Such a great convo with our friend, author, mom, creative, and yes… Beach Tennis Pro, Laura Haver. We talked about the fun things she's been doing with her family during the pandemic, Netflix, self-forgiveness, her upcoming book, and a little thing called Hedonic Adaptation… And if you're like us and didn't know what that meant, you need to! Plus we filmed this one so you will get to watch us on the Youtubes.
You can find Laura on her website: laurahaver.com
And on Instagram @lauramhaver
Mouse and Weens
E75 – Meet Laura Haver, a life coach, writer and athlete. As a mom herself, and the creative playful talent behind Chasing Havers, she gives us practical advice on getting through these homebound, tumultuous times. We talk about distractions, mental overwhelm, and meltdowns, and learn how we can get back on the happiness track with some straightforward steps. Find out about her sanity checklist and daily hacks to help organize our chaotic lives. And take part in her fun challenge called #WeWriteTheStory which through games and play, creates connection and mental shifts toward happiness. Whether you're a parent like Mouse looking for support and structure, or feeling indecisive like Weens with interests or career, you can use what Laura offers to get you centered and onto that path forward. We're excited for you to hear this episode and to spread positivity. It is contagious!
Sense of Soul Podcast 
Playful Connection (51 min)
Laura Haver joined us for a playful conversation! She is obsessed with uncovering the secrets of how to live an unstoppable life. As a coach, writer, athlete, and mom, she has successfully pivoted many times throughout her life and career, and loves empowering her clients and readers to do the same. With decades worth of coaching experience and has helped hundreds of people to experience play, adventure, growth and inspiration in their lives.
Laura's upcoming book, Whirlwind Parenting, is a fun & easy read on how to playfully transform your parenting (through coaching, communication & games). She loves helping parents connect with their kids, spouses, community & selves, and bring their play back to life! Inspiring parents to have more fun and connect with their kids through play, coaching and communication. Her blog also features posts on well-being, play, inspiration and more.
Laura is always creating, last year she successfully challenged us with her #wewritethestory, recently she started new community called "Author Moms" to connect, support and inspire writing moms.
Check out and follow her journey on IG @Lauramhaver and visit laurahaver.com.
Book Laura for Your Podcast
I absolutely LOVE doing podcast interviews. It's such a blast digging into different topics and sharing ideas. Reach out below if you'd like me to appear on your podcast.
My areas of expertise include: Play. Communication. Happiness. Well-being. Habits. Parenting. Mom-life. Mompreneur-life. Fun. Coaching. Life design. Emotional intelligence. Athletics. Mindfulness. Relationships. Kids. Writing. Creativity. Community. Inspiration. Self-care. Games. Being unstoppable. Intentional living. Beach tennis. Tennis.